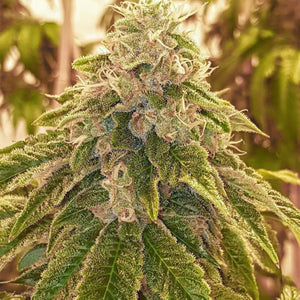 Karma Genetics - Sweets #29 x Ztini
Regular price £120.00 Sale
The Sweets #29 x Ztini is a special release by Karma Genetics that made its first debut at the 2022 Spannabis Expo.
This cultivar is a drop from Karma Genetics' private reserve of limited-edition cannabis seeds. The Sweets #29 x ZTini regular cannabis seeds are available as part of this limited release and many other exotic new crosses.
The Sweets 29 is a unique pheno of Sweets, selected by Karma Genetics and used as the mother for the stunning MS# 29 (Sweets 29 x Melon) and the impeccable Sweets Tini (Sweets 29 x LemonTini). Sweets is a cross between Guava Gelato and Karma's own Sour Diesel Bx2 that effortlessly blends the modern powerhouse that is Guava Gelato with the legendary Sour D terp profile.
The proven cut of the Sweets crossed with the Ztini is part and parcel of Karma's 2020 breeding work with the clone-only Zkittlez. Ztini crosses the Zkittlez with Karma's LemonTini, potentially adding some seriously decadent tropical candied notes to the Zingy Sourness from the LemonTini. The LemonTini is a cross between Lemon Tree and Karma's Sour Diesel Bx3, adding a unique dimension to the Lemon Tree terp profile.

Pack Size- 12 Seeds Per Pack
Indoor / Outdoor - Indoor / Outdoor
Flowering Time - 8-10 Weeks
Lineage- Sweets#29 x Ztini
Yield - Medium/High
Seed Type -Regular