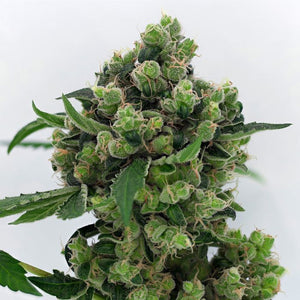 Sowahh - R12
Regular price £100.00 Sale
R12 -
Brand - Karma Genetics
Pack Size - 12 Seeds Per Pack
Indoor / Outdoor - Indoor / Outdoor
Flowering Time - 10-12 Weeks
Genetics- Sativa 70 / Indica 30
Lineage - Karma Sour D 2007 x Karma Sour D BX3#A2
Yield - High
Seed Type - Regular
Sowahh regular cannabis seeds from Karma Genetics is a beautifully-bred Sativa-dominant strain of cannabis from this legendary, Dutch seed company.
Genetically, Sowahh is a fusion of elite genetics that have been selected and honed by Karma's world-class breeding team: Karma Sour D 2007 x Karma Sour D BX3 #A2 is the exact lineage that produces this mouth-watering hybrid.
Legally-operating growers will see tall, narrow plants with a similar structure to OG Kush varieties. 70-84 days is the estimated flowering time " fairly modest for a 70% Sativa variety.
Flavours and aromas are strong and pronounced with a distinct smell of astringent sour gas. The terpenes myrcene and limonene are abundant with hints of caryonphyllene. Sowah is not dissimilar in taste to strong, old-skool Afghani strains with that greasy, sour indulgence.