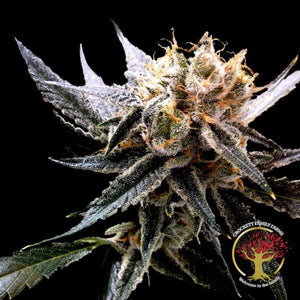 Crockett Sour Tangie - R12
Regular price £70.00 Sale
R12
Crockett's Sour Tangie is a magical fusion of old and new marijuana genetics that come together to create something really special.
This sativa-dominant strain is derived from old school favourite, East Coast Sour Diesel (ECSD) which is pollinated with Crockett's cut of the (relatively) new school, Tangie.
The resulting strain is a triumph in every sense. Both parent strains shine through here – legal test cultivation yielded strong, vigorous plants in two distinct phenotypes: one Tangie dominant and one ECSD dominant. Both phenos finish between 9-10 weeks and both grow tall – Sour Tangie will stretch up to the fourth week of veg. The best results could be achieved with the use of trellis as support.
Crockett's Sour Tangie has a remarkable terpene profile – the tops finish up coated in a crystalline blanket of trichomes which has to be seen to be believed. The complex flavours and aromas are sure to make Sour Tangie a big hit with connoisseur seed collectors.
Pack Size - 12 Seeds Per Pack
Indoor / Outdoor - Indoor / Outdoor
Flowering Time - 9-10 Weeks
DNA - 80% Sativa / 20% Indica
Genetics - Sativa
Lineage - Sour Diesel (AJ's Cut) x Tangie
Yield - 500/600
Seed Type - Regular