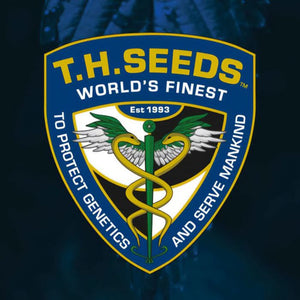 Exodus Cheese × LPC X Kushmints
Regular price £110.00 Sale
T.H.Seeds have come up with another banger, this time in regular seeds, where they've crossed the infamous UK legend that is the Exodus Cheese with two modern powerhouse exotic strains: London Pound Cake and Kush Mints.
Exodus Cheese has an unmistakable skunky, almost rancid, funky cheese flavour & aroma that is offensive in the best way possible, always managing to out stink whatever container it's kept. On the modern side, the London Pound Cake has a sweet berry aroma, and the Kush Mints leans more towards the infamous cookie terp profile, with freshly baked cookie dough scents reminiscent of those wafting out of a bakery early on a Monday morning. Thankfully these genetics appear to be relatively evenly matched, meaning all flavour profiles and traits from all parent strains are often found in this unique cultivar.
The Kush Mints & London Pound Cake genetics shine through in the bud structure, producing some beautifully dense flowers and bountiful yields that will impress all levels of grower. The Exodus Cheese x London Pound Cake x Kush Mints bag appeal is off the chain thanks to the elite genetics used to breed this variety; expect to see exotic purples and deep blues alongside contrasting orange pistils.
These exceptional genetics are also a dream for their resin potential; the Kush Mints adds some incredible trichomes that make for hash and legal extractions of dreams. Phenotypes that produce the Cheese terp profile but with Kush Mints resin production as sure to be a solventless extraction star! A true blend of the old and new school, so no doubt there are some exceptional phenos in these stunning genetics.
Pack Size - 11 Seeds Per Pack
Indoor / Outdoor - Indoor / Outdoor
Flowering Time - 9 Weeks
Genetics - Hybrid
Lineage - Exodus Cheese x London Pound Cake x Kush Mints
Yield - 500 to 700 gr p.s.m.
Seed Type - Regular