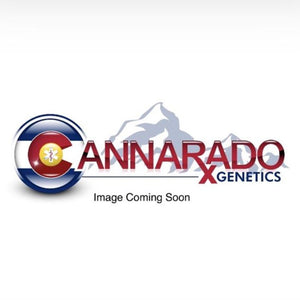 Goodnight Moon - F6
Regular price £100.00 Sale
F6
Goodnight Moon cannabis seeds by Cannarado Genetics are a new release from this pioneering American seed company.
Goodnight Moon is an Indica dominant hybrid suitable for indoor or outdoor gardens in legal environments. Cannarado Genetics report flowering times of between 56-70 days, and plants thrive with stocky stature, vigorous branching and prolific growth.
Goodnight Moon is a cross of TK91 (Triangle Kush x 91 Chem) x Birthday Cake and she has all the old skool flavours going on with kushy, chem tanginess tempered with sweet vanilla and fruit from the Birthday Cake.
Goodnight Moon carries Indica-dominant effects that envelop the body with a nostalgic, flavour-filled high.
We are certain that Goodnight Moon is going to be very popular with collectors of unusual crosses and fans of Rocky Mountain cannabis in general.
Cannarado Genetics started experimenting with cannabis breeding way back in the late 1990's and have been honing and perfecting their art ever since. A team of Colorado locals, Cannarado Genetics have embraced the legal medical and recreational laws in their home state and begun sharing their unique clone-only crosses with the rest of the world. With a passion for breeding and a culture of perfectionism, Cannarado aim to give each customer a keeper from every single pack of cannabis seeds.
Pack Size - 6 Seeds Per Pack
Indoor / Outdoor - Indoor / Outdoor
Flowering Time - 56-70 Days
Genetics - TK91 x Bday Cake
Type - Hybrid
Seed Type - Female