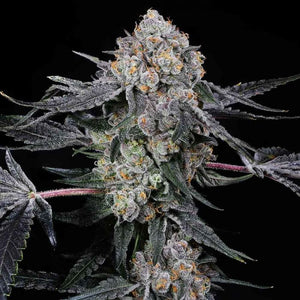 High Society - F5
Regular price £75.00 Sale
F5
Pack Size - 5 Seeds Per Pack
Indoor / Outdoor - Indoor / Outdoor
Flowering Time - 9 Weeks
Genetics - Hybrid
Lineage - Biscotti x Jet Fuel Gelato
Yield - Medium
Seed Type - Fems
Compound Genetics' High Society is one of the newest releases to drop from the incredible Compound Genetics breeders.. High Society is a powerhouse strain built off stellar building blocks using Compound Genetics' Jet Fuel Gelato as the mother, which they've used across countless strains; it is a true genetic marvel. The Jet Fuel Gelato blends notes of the infamous sweet dessert found in the Gelato with heavy notes of diesel gas; this combination is sure to keep you with some buds to your nose at all times! The Jet Fuel Gelato has been pollinated with the infamous Biscotti, one of the most sought-after strains in the modern exotic categories. The High Society seeds tend to exhibit a wide variety in plant structure, terpene, colour and suitability of grown environment.