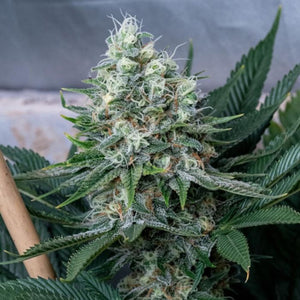 Killer Glue - F6
Regular price £75.00 Sale
F6
Killer Glue is the third elite strain to be released by Little Chief Collabs. Harnessing the best properties of two legendary strains, Killer Glue seeds are sure to be among the most sought after seeds this year.
'Little Chief' is the affectionate nickname given to the boss here at Alpha Seeds – and he has, once again, been speaking with his industry buddies, encouraging different elite seedbanks to work together to produce a game-changing strain to go out under this exclusive label.
Killer Glue is derived from Serious Seeds' infamous AK-47 which is crossed with The Original Glue from GG Strains (the rare strain formerly known as Gorilla Glue 4 or GG4). 
AK-47 dominated the awards podiums from the mid 90's right through to the 2010's and was still winning awards as recently as 2018. The secret of it's longevity? Well arguably, that comes down to the stability of the genetics, how easy it is to grow and of course, the sheer potency of the strain. Before AK-47 arrived on the scene, most Amsterdam coffeeshop strains were all much of a muchness in terms of THC levels. AK-47 took things to a new level and signalled the start of the race to the top for the most powerful strains.
GG Strains Original Glue (GG4) – the strain formerly known as Gorilla Glue 4 – is basically a modern-day incarnation of the AK-47 in terms of the impact it had upon the industry. A multiple award-winner, and a genuine break from the norm when it was released. Many legal breeders have had The Original Glue up and over 30% THC and the out-of-control resin production has given this strain an almost cult status.
Pack Size - 6 Seeds Per Pack
Indoor / Outdoor - Indoor / Outdoor
Flowering Time - 9-10 Weeks
DNA - Indica+
Lineage - AK-47 (Serious Seeds) x Original Glue aka GG4 (GG Strains)
Yield - High
Seed Type - Feminized