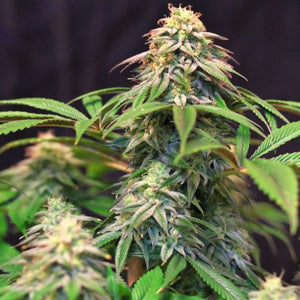 Lemon Suit Larry - R12
Regular price £70.00 Sale
R12
Lemon Suit Larry is an Indica-dominant hybrid.
Legally-operating growers will see Lemon Suit Larry flower in a modest 8-9 weeks and she steals the show with stunning, dark green plants and beautiful looking flowers.
Bumper yields are possible with a medium feeding pattern.
Lemon Larry x Commerce City Kush is the genetic lineage and this is showcased with the finished product of tight, frosty buds and delicious old school flavours.
The Dampkring, for the uninitiated, is an iconic Amsterdam coffeeshop famous for its comfy surroundings, celebrity clientele, and of course top-quality cannabis.
Located in the heart of Amsterdam's bustling city centre, The Dampkring differs from other coffeeshops. Their cannabis is more varied than other menus – old school strains mix with modern varieties, but the great value pricing and unique décor and ambience remain, setting The Dampking apart from other coffeeshops.

Pack Size - 12 Seeds Per Pack
Indoor / Outdoor - Indoor / Outdoor
Flowering Time - 8-9 Weeks
Genetics - Hybrid
Lineage - Lemon Larry x Commerce City Kush
Yield - medium (350g- 500 g m2)
Seed Type - Regular