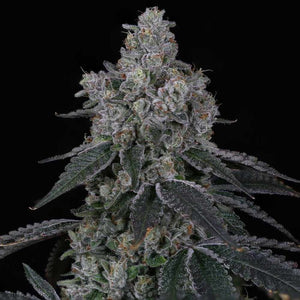 Marshmellow OG -F5
Regular price £75.00 Sale
F5
Pack Size - 5 Seeds Per Pack
Indoor / Outdoor - Indoor / Outdoor
Flowering Time - 9 Weeks
Genetics - Hybrid
Lineage - ChemD x Triangle Kush x Jet Fuel Gelato
Yield - Medium- High
Seed Type - Fems
Marshmallow OG is one of the signature strains from Compound Genetics, and we're super pleased that she's finally dropping at Pure Sativa.
Marshmallow OG by Compound Genetics is a fusion of some of the biggest heavy-weight, elite cannabis strains in the history of hall of fame cannabis strains. The Jet Fuel Gelato is the mother of the Marshmallow OG and is a new school variety bred by Compound Genetics. The Jet Fuel Gelato mother is a carefully bred hybrid that crosses Jet Fuel G6 with High Octane & Gelato 45; she is a true pillar of the Compound Genetic library, having been used to mother countless elite genetics. The pollinator is the ChemD x Triangle Kush which is the culmination of two of the most potent sedating strains on the market.
Marshmallow OG has been named after the breeder's favourite phenotypes smelling like a freshly-opened bag of marshmallows. The Chemdog D x Triangle Kush infuses its mind-bending potency and intensely offensive aromas, whilst the Jet Fuel Gelato improves the bud structure's overall tightness and transforms it into a beautifully strong plant that will show its resilience across a great range of environments.