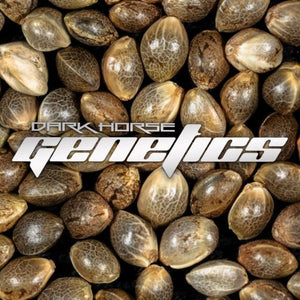 Mr Zoftee - R12
Regular price £110.00 Sale
R12
Mr. Zoftee Regular Seeds from Dark Horse Genetics is a new strain that showcases the world-class breeding skills of the Dark Horse team.
There are few seedbanks in the world as classy and consistently innovative as Dark Horse Genetics. This elite US cannabis company rocketed to prominence a few years ago when they released their flagship strain known as Bruce Banner. High Times magazine crowned Bruce Banner 'Strongest Strain on Earth' in 2014 and that has been enough to ensure that the powerhouse hybrid sold out in record time here at Alpha Seeds every time we restock it.
This new drop of seeds all feature Dark Horse Genetics' iconic Thanoz strain – a mouth watering cross of Zkittlez x Bitch Slap – as a base for the genetics.
Mr. Zoftee is a beautifully bred and selected Zkittlez hybrid derived from a cross of Ice Cream Cake x Thanoz (Zkittlez x Bitch Slap). Mr. Zoftee has a delightful terpene profile with a heavy dose of Dark Horse Genetics' trademark potency, this is a top-shelf hybrid with an amazing genetic pedigree. Legally-operating growers can look forward to prolific and vigorous plants with a creamy, smooth flavour from the Ice Cream Cake and sweeter, fruity notes from the Thanoz. Mr. Zoftee is a THC powerhouse producing lots of resin, so an ideal choice for legal extraction artists. She is suitable for indoor or outdoor growing environments and has a modest flowering time of 8-11 weeks.
Pack Size - 12 Seeds Per Pack
Indoor / Outdoor - Indoor / Outdoor
Flowering Time - 8-11 Weeks
Genetics - Hybrid
Lineage - Ice Cream Cake x Thanoz
Yield - Medium to High
Seed Type- Regular