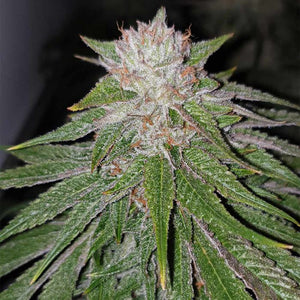 Pancake Runtzx Melon - F6
Regular price £70.00 Sale
F6
The Pancake Runtz x Melon by Karma Genetics x Grounded Genetics is one of the five limited-edition collaboration strains that we released at the Spannabis 2022 convention. This collaborative line has been produced by hitting a carefully curated selection of Grounded Genetics' strains with Karma Genetics' reversed Melon pollen.
The London Pound Cake #75 x Kush Mints #11 is an exotic cross from Seed Junky Genetics in collaboration with Cookies SF, which the infamous keeper cut from the breeders/ Cookies SF team has been named Pancakes. Grounded Genetics has pollinated the Pancakes cut with their reversed Runtz pollen to create their terp-fuelled Pancake Runtz aka London Pound Mintz Runtz.
The Pancake Runtz progeny tends to express large yields thanks to the towering, densely stacked colas that are heavily coated with a rich trichome coverage. The terpene profile is even more impressive as the flavours range from heavy gas on the inhale that can range from a blend of chem funk, glue mint and baked goods whilst the backnotes tend to be underpinned by the tantalisingly sweet candy gas Runtz flavour on the exhale. This variety is sure to have even the most discerning of palettes salivating at first sniff.
The London Pound Mintz Runtz has been hit with Karma Genetics Melon pollen. Karma Genetics Melon is an older strain that has easily withstood the test of time, having first entered his stable through the overgrow forum days. It is believed to have an OG kush lineage, although the exact genetics of which is unknown, but what is clear is why it is perfect breeding stock today and that's thanks to its infamous gassy green melon flavour that fits perfectly within the Candy Gas genre. Karma Genetics' Melon expresses an Indica dominant structure with large fan leaves and a terp profile that is equally as gassy as sweet.
Don't miss out on these limited edition genetics where these exceptional genetics collide for this special collaboration between Karma Genetics x Grounded Genetics.
Pack Size - 6 Seeds Per Pack
Indoor / Outdoor - Indoor / Outdoor
Flowering Time - 8-10 Weeks
Lineage - Pancake Runtz (London Pound Cake #75 x Kush Mints #11 x Runtz) x Melon
Yield - Medium - High