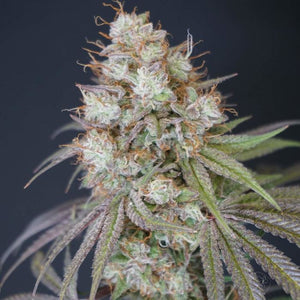 Rocket Juice - F6
Regular price £70.00 Sale
F6
Rocket Juice female weed seeds by Karma Genetics is one of the newest creations from Karma Genetics. Karma Genetics is an industry leader in the cannabis seed market for good reason, they combine exceptional terpenes with brilliant bag appeal and structure as well as putting through all contenders through vigorous testing to ensure that they are fit for release.
Rocket Juice is a cross that combines the Rocket Fuel mother selected by Karma from Archive Seedbank with Karma Genetics' infamous Melon pollen reversal to dust the Rocket Fuel.
The resulting progeny is an extremely gassy OG Kush type of hybrid that leans heavily to the Indica characteristics in terms of effects and structure. The Rocket Juice expresses a medium stretch during early flower, and the upgrowing branches show a classic OG Kush style of structure but with a little less intensely heavy high.
Rocket Juice produces dense rounded buds with an impressive leaf to bud ratio; during the flush, deep colours can show. The flavour is intense with this one, with heavy gaseous notes throughout, and it keeps flavour extremely well from lighting your smoke to the last puff on the roach.
Pack Size - 6 Seeds Per Pack
Indoor / Outdoor - Indoor / Outdoor
Flowering Time - 9-10 Weeks
Lineage - Rocket Fuel x Melon
Yield - Medium
Seed Type - Fems