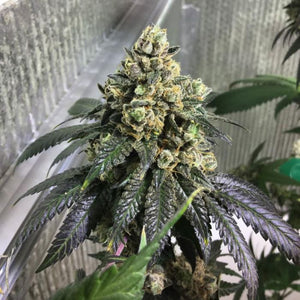 Sherb Biker - R12
Regular price £70.00 Sale
R12
Sherb Biker cannabis seeds from Karma Genetics is an all new strain from this elite, Dutch seed company.
As her name perhaps suggests; Sherb Biker is derived from a selected phenotype of Sherb IX (Gelato #33 x Sunset Sherbet) from Karma's personal selection. The Sherb IX was then crossed to their ever-reliable Biker Kush to create Sherb Biker – a beautifully bred hybrid of two incredible cannabis strains.
Legally operating growers can expect prolific, well-structured plants with flowering times of between 9-11 weeks. The presence of the Gelato #33 in the genetics gives the flowers a beautiful purple-green coloration that is augmented by an astounding terpene profile layered with creamy fruits, berries and a raw funky pungency.
Sherb Biker is a potent strain with medium to high yields under legal test conditions. Her potency, flavour and aromas make her an ideal choice for legal extraction artists.

Pack Size- 12 Seeds Per Pack
Indoor / Outdoor - Indoor / Outdoor
Flowering Time - 9-10 Weeks
Genetics - Hybrid
Lineage - Sherb IX x Biker Kush
Yield - Medium to High
Seed Type - Regular