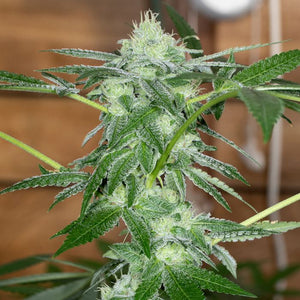 Sherb Tini - R12
Regular price £70.00 Sale
R12
SherbTini cannabis seeds from Karma Genetics is a new hybrid cannabis strain from Karma that forms part of their new LemonTini collection.
Karma's LemonTini was released earlier this year and was the clear winner of the batch of strains it was launched with. Strong lemon flavours are always popular and LemonTini positively fizzes with sharp, citrus terpenes and delicious gassy goodness.
It hasn't taken Karma Genetics long to realise the potential of their new star strain, and there is now an entire collection of hybrid cannabis strains based around the genetics of LemonTini (Lemon Tree x Karma Sour D BX).
SherbTini is derived from a cross of Sherb IX (KG Cut) x LemonTini and produces a sherbert-dominant hybrid with a breeding pedigree that includes Gelato#33 and Sunset Sherbert.
Legally-operating growers can expect well-structured plants with some gorgeous colouration late in bloom.
Experienced gardeners will want to allow SherbTini a little longer than the standard 9-week flowering time for the best results.
Large, dense buds abound with a deliciously creamy, lemon candy flavour. Just superb.
Pack Size -12 Seeds Per Pack
Indoor / Outdoor - Indoor / Outdoor
Flowering Time - 9-10 Weeks
Genetics - Hybrid
Lineage - Sherb IX KG Cut x LemonTini
Yield -Medium
Seed Type -Regular