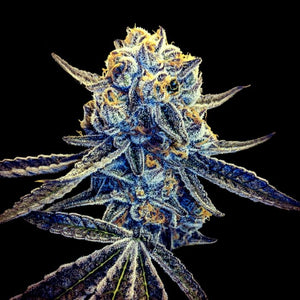 Tangieland - R12
Regular price £70.00 Sale
R12
Suitable for indoor or outdoor cultivation in any legal climate, Tangieland is a hybrid cannabis strain with traits leaning heavily towards Indica dominance. As the name suggests, she is derived from a cross of Candyland x Tangie and Crockett's masterful touch has managed to harness the very best attributes of both parent strains.
Tangieland exhibits the overpowering tangerine flavours from the Tangie genetics, but instead of the soaring euphoria and energy associated with Tangie's Sativa high, Tangieland delivers a calming, sedative effect more in line with the Indica effects of Candyland. This is a perfect strain if you want the lip-smacking flavours of Tangie, but are not too keen on her powerful head high.
Tangieland flowers in a standard 8-11 weeks and growers can look forward to stable, uniform plants that develop a heavy coating of trichomes during their bloom phase. Tangieland can be pushed by experienced gardeners for very rewarding yields.
Crockett Family Farms is owned and operated by a master breeder called – you guessed it – Crockett. Crockett is a long time personal friend of Don and Aaron, the founders of DNA Genetics. Indeed, it was Crockett who first bred the all-conquering Tangie cannabis strain. He presented it to the DNA guys and the rest is history. Tangie won virtually every industry competition it was entered into and is the only strain we can remember that has ever won 1st and 2nd place in the same category (Best Sativa) when Crockett's cut clinched gold ahead of the DNA Genetics version at the High Times Cannabis Cup in Amsterdam.
In short, Crockett is a breeder of rare skill and ability and these cannabis seeds are as good as it gets. They are certain to be popular with legally operating growers and discerning collectors of world-class cannabis genetics.
Pack Size - 12 Seeds Per Pack
Indoor / Outdoor - Indoor / Outdoor
Flowering Time - 8 to 11 Weeks
DNA - 75% Indica 25% Sativa
Genetics - Indica
Lineage - Candyland x Tangie
Yield - 450 to 500 g/m2
Seed Type - Regular